Kika Sprangers Large Ensemble
In Sprangers' Large Ensemble, she broadens Anna's tangible voice by adding a singing section with Sanne Rambags and Marit van der Lei. Kika's saxophone sound is encircled by the instrumentation of bass clarinet, horn, trumpet and flute. With Sprangers' inspiring leadership in which she likes to establish a strong connection between musicians, she seeks the refined balance between scored, orchestrated arrangements and free play for the individual improvisers. Pianist Martin Fondse describes the Kika Sprangers Large Ensemble in the album liner notes as, "An exciting orchestral line-up, where the vocals especially shine. They are not only outstanding and original as soloists, they also represent a band that is judiciously interwoven with the wind section, occasionally offering sonic juxtapositions, excelling in independent virtuoso passages and improvisations." 
In 2020 Human Traits was nominated for an Edison Award (Dutch Grammy).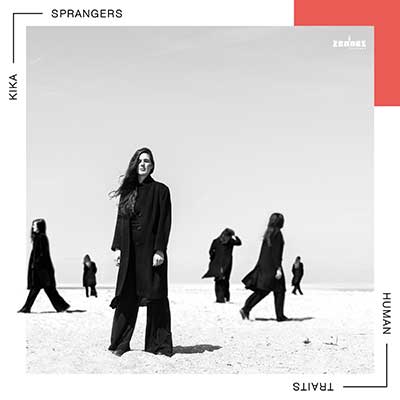 Kika Sprangers – Human Traits (audio cd)
Webshop ZenneZ Records
Composer/saxophonist Kika Sprangers for sure is a rising star in contemporary jazz in The Netherlands. At the age of nearly 25, Kika already performed at North Sea Jazz, was selected for the prestigious Young VIP 2018 tour ((best new jazz artist) and received compositions assignments for i.e. Grachtenfestival Amsterdam.
€ 15.00