Sprangers / Fondse / Brinkmann
2017 – present
This trio (Kika Sprangers (saxophones), Martin Fondse (piano) and Jörg Brinkmann (cello)) met for the first time last year in Breda during the Beaux Jazz Carte Blanche series. We bring together our lyrical compositions (each of us contributes our own work) through free improvisational interludes in a joint search for surprising, colourful harmonies and melancholy melodies. The combination of cello, piano and saxophone allows us to exchange musical roles in the moment and to add refreshing elements to the music. In addition to our debut concert, we played at the Jazzy Living Room Festival in Den Bosch and our live concert in Brebl Nijmegen was recorded by the NTR for the "New Generation" programme for the NPO Cultura channel.
Martin Fondse, the winner of the 2017 Buma Boy Edgar Prize, is an established musician, composer, arranger and band leader on the national and international scene. He excels in compelling compositions and arrangements for, among others, the Metropole Orchestra and the NJJO, and his own groups such as the Starvinsky Orchestra, the Martin Fondse Oktemble and his collaboration with Brazilian singer Lenine. Last year, he and Lenine received two Prémios (the Brazilian Grammies) for their project The Bridge. Jörg Brinkmann is celebrated for his unique cello style, which is on the cutting edge of classical, jazz and avant-garde. He has numerous concerts and albums to his name in various groups, including his own trio, the Franz von Chossy Quintet, the Alex Simu Quintet and Eric Vloeimans. This year, he toured with the Martin Fondse Orchestra (North Sea Jazz Festival, Bimhuis, November Music).
The trio will go on a short tour of Dutch jazz venues in February 2019.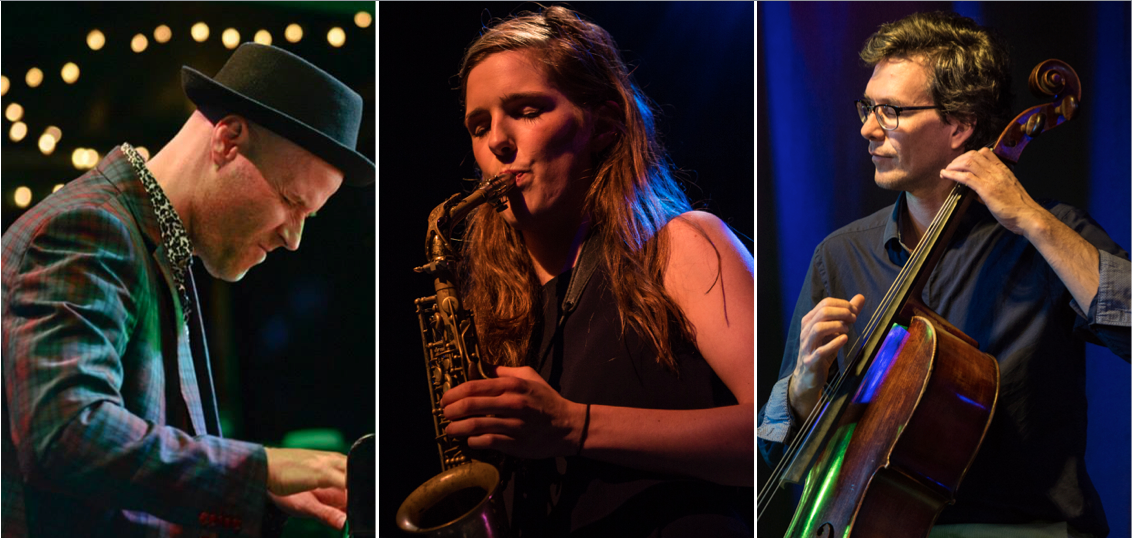 Originele foto's door (van links naar rechts): Tami Toledo Matuoka, Eric van Nieuwland, Eddy Westveer